Learn More | Estée Lauder Eye Care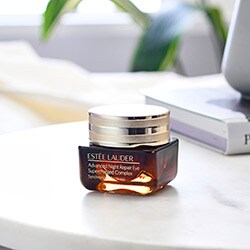 The sparkle of youth is in your eyes. Re-ignite the light in your eyes with Estée Lauder's eye care range to target key sign of eye ageing including puffiness, darkness, lines and dryness.
As one of the first areas to show signs of ageing, eye care is an essential step in every morning and night-time routine. The eye area is susceptible to fine lines and wrinkles which can be a result of lack of sleep, fatigue, blue light from electronic devices, or a product of your environment such as pollution.
For a targeted and concentrated treatment, opt for an eye serum from our Advanced Night Repair range. To fight the first signs of ageing and maintain a youthful look, choose our Advanced Night Repair Eye Supercharged Complex which features a rich gel-like consistency to repair, brighten and hydrate the eye area. To strengthen delicate skin with existing signs of ageing, use our Advanced Night Repair Eye Concentrate Matrix which has been proven to dramatically reduce the look of lines, wrinkles and puffiness while repairing and fortifying skin.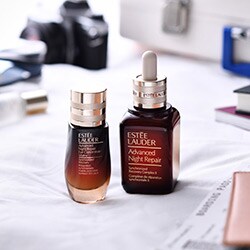 For optimal results, partner an eye serum with a rich eye crème to intensely hydrate and nourish the eye area. Infusing skin with the anti-oxidants, our DayWear products will assist in managing the early signs of eye area ageing by minimising visible dark circles and de-puffing under the eyes.
Our Revitalizing Supreme+ eye balm is a nourishing, multi-action product which significantly improves visible firmness and elasticity around the eyes, plus reduced the look of existing lines and wrinkles. For an added boost, add a liberal amount once a week as an eye mask.
Intensely nourish eye areas with deep lines, wrinkles and sagginess with our Resilience Multi-Effect eye crème. Suitable for all skin types, this product contains multi-effect tri-peptides making eyes feel firmer, look more lifted and less puffy.
Complete your morning or night-time routine with a thorough cleanser, hydrating treatment lotion, powerful repair serum and nourishing moisturiser for skin that looks healthy and nourished.
back to top